1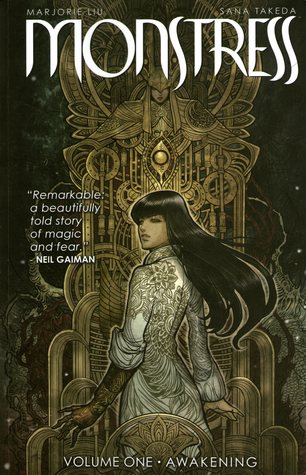 Set in an alternate matriarchal 1900's Asia, in a richly imagined world of art deco-inflected steam punk, MONSTRESS tells the story of a teenage girl who is struggling to survive the trauma of war, and who shares a mysterious psychic link with a monster of tremendous power, a connection that will transform them both and make them the target of both human and otherworldly powers.
Review:
https://www.goodreads.com/book/photo/29396738-monstress-volume-1
2
This exciting publication familiarizes readers of all ages with the many fascinating facets of Vincent van Gogh (1853--1890)—artist, correspondent, traveler, and modern explorer of Europe's cities and countryside. Authors Nienke Denekamp and René van Blerk trace the artist's route across Europe "from Z to A," beginning in his birthplace of Zundert in the southern Netherlands and ending where he died, in Auvers-sur-Oise near Paris. Each location is described with lively and accessible texts, comprehensive timelines, city and country maps, contemporary photographs, and related artworks by Van Gogh.
3
After Elizabeth Bennet rejects his marriage proposal, Fitzwilliam Darcy finds himself in the most unusual of circumstances. At first believing the extraordinary turn of events has granted him an inexplicable boon, he is eager to put the humiliating proposal behind him.
He soon discovers that he is trapped in the same waking dream with no end in sight and no possible escape. All that he holds dear—his name, his home, his love—remains ever out of reach. How will he find his way back to his normal life? Will one mistake haunt the rest of his days? It will take all of his fortitude to weather the storms of his strange new fate, and all of his courage to grasp the promise of his future.
Review:
http://aleph1984.blogspot.com.ar/2016/10/the-many-lives-of-fitzwilliam-darcy.html
5

Hollywood star, wife of Roman Polanski, victim of Charles Manson, and symbol of the death of the 1960s.
In addition to providing the first full-fledged biography of Sharon Tate, author Greg King finally gives a voice to the families of the slain, notably Tate's mother, Doris. Her advocacy for victims' rights was recognized during President George H. W. Bush's 1992 "A Thousand Points of Light" ceremony. This is the true story of a star who is being rediscovered by a new generation of fans, a woman who achieved in death the fame she yearned for in life.
8
The struggles and injustices faced by workers during the Great Depression spring to graphic life in this powerful wordless novel, which traces a middle-class family's downward spiral. Recounted in 128 striking black-and-white linocuts by artist Giacomo Patri, the story takes place between 1929 and 1933, from just before the stock market crash to the devastating years immediately afterward. The protagonist, an earnest young man with a promising career in advertising, descends into unemployment, debt, and homelessness. Desperate to provide for his family, he discovers common ground with blue-collar workers and the benefits of union organizing.
Because of its controversial depictions of class struggle, unionization, and abortion, White Collar was shunned by publishers, and the author was forced to print his own editions.
9
In an alternate Victorian world controlled by clock towers, a damaged clock can fracture time—and a destroyed one can stop it completely.
It's a truth that seventeen-year-old clock mechanic Danny Hart knows all too well; his father has been trapped in a Stopped town east of London for three years. Though Danny is a prodigy who can repair not only clockwork, but the very fabric of time, his fixation with staging a rescue is quickly becoming a concern to his superiors.
And so they assign him to Enfield, a town where the tower seems to be forever plagued with problems. Danny's new apprentice both annoys and intrigues him, and though the boy is eager to work, he maintains a secretive distance. Danny soon discovers why: he is the tower's clock spirit, a mythical being that oversees Enfield's time. Though the boys are drawn together by their loneliness, Danny knows falling in love with a clock spirit is forbidden, and means risking everything he's fought to achieve.
10
Ever noticed that women don't feature much in history books, and wondered why? Then this is the book for you. In The Trouble with Women, feminist artist Jacky Fleming illustrates how the opinions of supposed male geniuses, such as Charles Darwin (who believed that women have smaller brains than men) and John Ruskin (who believed that women's main function was to praise men), have shaped the fate of women through history, confining them to a life of domesticity and very little else.
Review:
http://aleph1984.blogspot.com.ar/2016/09/the-trouble-with-women-el-problema-con.html
Maire is a baker with an extraordinary gift: she can infuse her treats with emotions and abilities, which are then passed on to those who eat them. She doesn't know why she can do this and remembers nothing of who she is or where she came from.
Evie Boyd is desperate to be noticed. It is the summer of 1969 and the smell of honeysuckle thickens the air and the sidewalks radiate heat. Until she sees them. The girls. And at the centre, Russell. Russell and the ranch, down a long dirt track and deep in the hills. Incense and clumsily strummed chords. Rumours of sex, frenzied gatherings, teen runaways.
Was there a warning, a sign of things to come?